Cecil e il presidente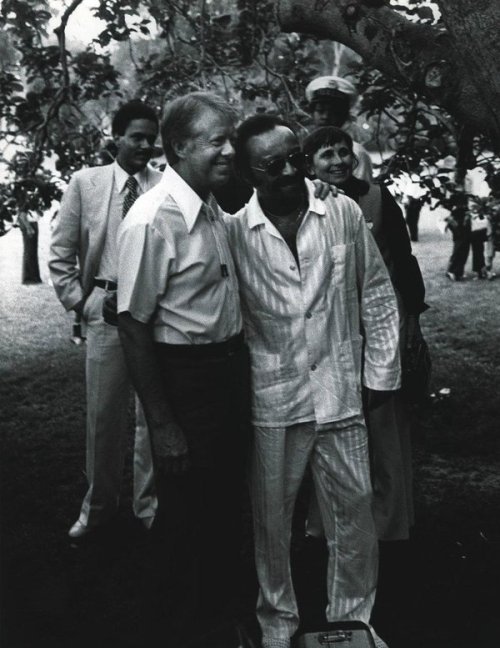 Jimmy Carter and Cecil Taylor at the White House in 1978
In 1978, the president Jimmy Carter, not renowned as an especially sophisticated jazz listener, hosted a jazz festival at the White House. Most of the bill was reasonably mainstream, if widely varying in style—Sonny Rollins, Stan Getz, Clark Terry, Chick Corea—but it also included Taylor, who must have been hard-pressed to fit his expansive music into the requisite five-minute slot. The music was far from plain, but the man from Plains was agog.
"After the last note faded, Jimmy Carter sprang up from the grass and rushed over to Cecil; Secret Service men scrambled to keep pace," promoter George Wein, who arranged the show, later recalled. "The president took the pianist's two hands in his own, looking at them with wonderment and awe. 'I've never seen anyone play the piano that way,' he marveled."
Carter asked whether the classical pianist Vladimir Horowitz had heard Taylor. Taylor said he doubted it. "You know he was here. He should hear you. How did you learn to do that?" Carter asked. "Hell, I've been doing it for 35 years," Taylor said. 
Fonte: https://www.theatlantic.com/entertainment/archive/2018/04/cecil-taylor-obituary/557507/?utm_source=atltw